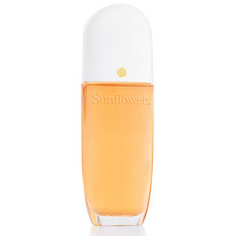 Sunflowers Eau de Toilette Spray Naturel
A celebration of life: bright, uplifting, invigorating in spirit and mood. Available in 30ml, 50ml and 100ml.
Top Notes: Bergamot, Melon, Peach, Osmanthus
Middle Notes: Jasmine, Cyclamen
Base Notes: Sandalwood, Moss
When you apply perfumes apply them to pulse points such as the folds in the crook of your elbow and back of knees, wrist, neck and cleavage. Spraying a little into the air is also good if you walk straight into the perfume. This helps to diffuse it over y
Sunflowers symbolizes the sun, capturing its goodness, naturalness and energy. The sunflower best represents what women today strive to become: strong, beautiful, healthy, smart and intuitive.