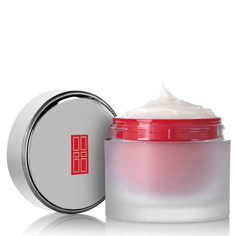 Skin Illuminating Firm and Reflect Moisturizer
This luxurious moisture cream with micronized diamond powder and minerals, deeply hydrates, evens skin tone and immediately brightens skin. Encourages optimal natural cell turnover and replenishes skin's essential moisture. Skin stays smooth and supple to reflect an even toned, fresh, luminous complexion.
This luxurious cream formula deeply hydrates and immediately brightens skin with micronized Diamond Powder. Purified mushroom extract encourages surface cell turnover and reduces the appearance of pores, while a silicon derivative replenishes skin's essential moisture binding proteins and fights moisture loss. Vitamin C derivative fights the formation of dark spots and uneven skintone. Skin feels soft and supple, and looks even toned, fresh and luminous.
To use: Apply evenly to face and neck.
Boost brightness. Reveal radiance. Illuminate skin from within.
These luxurious, fine-tuned formulas work in symphony as part of our revolutionary Skin Illuminating System to even skin tone and help skin reflect a brighter look. Advanced skin brighteners provide both instant effects and long term benefits with continued use, to reflect visibly smoother, even toned, more luminous skin.
All Skin Illuminating formulas are clinically and dermatologist tested.