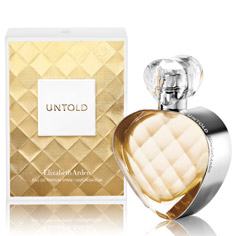 UNTOLD Elizabeth Arden Eau de Parfum Spray
This luxurious, floral composition accentuates every facet. The allure is undeniable, the intrigue unforgettable, and the details unrivaled.
Sizes: 100mL, 30mL
A luxurious and modern floral composition, UNTOLD celebrates the sophistication and intrigue of the multi-faceted modern woman. From her vibrant optimism and refined femininity to her mysterious aura and magnetic sensuality, UNTOLD takes you on a journey through the many facets that together, make her genuinely beautiful.
With its sparkling and fruity introduction, radiant floral heart and mysterious addictive warmth, UNTOLD captures all that a woman is.
Top Notes: Black Currant LMR, Bergamot, Pink Pepper, Pear
Middle Notes: Gardenia, Peony, Jasmine LMR
Base Notes: Sandalwood, Patchouli Heart LMR, Musk, Amber
Apply your perfume to the pulse points of your body, such as the inside of the elbow and wrist, back of the knee, side of the neck and between your cleavage. You can also spray a little into the air in front of you before walking into it. This allows the perfume to diffuse over your body.
Whether it's dreams she has yet to share, secrets she has yet to reveal, or ambitions she has yet to declare, UNTOLD was designed to embody the many different facets of the modern woman. While some of these facets are apparent on the surface, others remain hidden, only to be revealed or discovered over time.