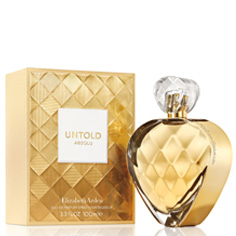 UNTOLD Absolu Eau de Parfum Spray
Made for the woman who indulges in everyday extravagance, UNTOLD Luxe reveals the opulent and luxurious side of a woman. Perfect for moments when only the very best will do.
A voluptuous floriental, UNTOLD Luxe reveals the opulent and luxurious side of a woman, bringing her alluring story to life through its magnetic scent. The scent journey opens with bursts of Pink Pepper, Bergamot and Cinnamon. The heart blooms with notes of Orange Flower, Jasmine and Rose, all of which wrap around a sensual Sandalwood, Vanilla and White Chocolate base.
Just like each fragrance in the UNTOLD Collection, every note in UNTOLD Luxe represents a different part of the UNTOLD woman's alluring personality.
Opulent: Pink Pepper & Rose petals
Indulgent: Cinnamon bark & White Chocolate accord
Luxurious: Orange flower & Jasmine Absolute
Mysterious: Tahitian Vanilla Bourbon Absolute and Benzoin
Sensual: Sandalwood & Labdanum
Top Notes:
Red Plum, Ginger Extract LMR, Black Raspberry, Italian Bergamot
Middle Notes:
Egyptian Jasmine Absolute LMR, Rose Water Essential LMR, French Narcissus Absolute LMR
Base Notes:
Brazilian Tonka Absolute, Cashmere Woods, Tahitian Vanilla Bourbon Absolute, Benzoin Resinoid
Apply your perfume to the pulse points of your body, such as the inside of the elbow and wrist, back of the knee, side of the neck and between your cleavage. You can also spray a little into the air in front of you before walking into it. This allows the perfume to diffuse over your body.
Whether it's dreams she has yet to share, secrets she has yet to reveal, or ambitions she has yet to declare, UNTOLD was designed to embody the many different facets of the modern woman. While some of these facets are apparent on the surface, others remain hidden, only to be revealed or discovered over time.