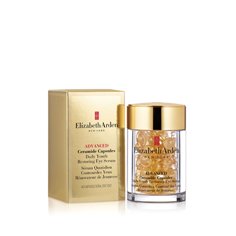 Advanced Ceramide Capsules Daily Youth Restoring Eye Serum
A lot of action from a little twist.
NEW Advanced Ceramide Capsules Daily Youth Restoring Eye Serum visibly firm and reduce the look of crow's feet and puffiness1 for eyes that look younger and brighter.
1consumer perception, at 4 weeks
Leveraging more than 25 years of research, Elizabeth Arden has updated the existing Ceramide Eye Capsule formula, adding 9 new ingredients to not only replenish essential, naturally-occurring lipids, but also help support skin's natural renewal process and target the key signs of aging around the eyes for a younger and brighter look. The result is a serum that immediately enhances skin's natural barrier, increases moisturization within the surface of the skin, and minimizes the appearance of fine lines and wrinkles.
Did you know?
The eye contour has the thinnest, most fragile skin on the entire face*. Advanced Ceramide Eye Capsules are formulated specifically for the delicate skin around the eye and to target visible imperfections such as crow's feet, crepiness and puffiness.
Precise. Potent. Targeted for Eyes.
Each golden capsule is biodegradable, fragrance and preservative-free—designed to deliver a fresh, concentrated dose of moisture-boosting serum packed with even more advanced Ceramide technology than before.
Clinically tested to improve the look of2:
Crow's feet, fine lines and wrinkles
Firmness and elasticity
Skin texture and clarity
Puffiness
Undereye discolorations
*Richard Y. Ha, M.D., Kimihiro Nojima, M.D., William P. Adams, Jr., M.D., and Spencer A. Brown, Ph.D., "Analysis of Facial Skin Thickness: Defining the Relative Thickness Index," Plastic and Reconstructive Surgery, 2005 May; 115(6):1769-73.
2 8-week clinical study
o An Enhanced Ceramide Lipid Complex (ECLX) combines Ceramides 1, 3 & 6 to help support skin's own natural protective barrier against moisture loss, and help to retexturize, exfoliate, and smooth skin.
 Ceramide 1: Ceramide 1 helps to strengthen and firm the look of skin.
 Ceramide 3: New to the formula, Ceramide 3 forms an effective barrier against moisture loss.
 Ceramide 6: With its AHA-like structure, Ceramide 6 supports skin barrier renewal for a smoother, softer complexion.
o Fatty Acids: A blend of essential fatty acids to instantly help support the integrity of the skin's lipid barrier for healthy-looking skin.
o Cholesterol: Cholesterol has been added to help retain moisture levels to support the stratum corneum and help protect skin from dehydration upon application.
o Phytosphingosine: A lipid naturally found in the skin..
o Sea Fennel Extract: New to the formula, Sea Fennel Extract helps promote natural skin cell renewal as well as increased luminosity and skin smoothness.
2. MOISTURIZATION:
o Botanical Complex Technology: Also new to the formula, this blend features Alfalfa Extract, lipids from olives and hydrocarbons from coconut oil and helps to reduce the appearance of fine lines and wrinkles, increase hydration levels, and soothe skin.
o Vitamin E: This powerful antioxidant fights free radicals and helps to keep skin hydrated and conditioned.
3. ANTI-AGING:
o Tsubaki Oil: Rich in Oleic Acid, Vitamins A, B, D & E, and nourishing Omegas 3, 6 & 9, Tsubaki Oil has been added to help improve elasticity, minimizing the look of fine lines and wrinkles while enhancing moisture for smooth, supple skin.
o Vitamin A Palmitate: This Vitamin A derivative is added to help smooth lines and wrinkles and help support skin's own natural collagen for a firmer look. Retinyls also help improve skin's clarity for a more even-toned appearance.
o Palmitoyl + Hexapeptide – 14: These peptides help reduce the appearance of fine lines and wrinkles
o Hops Extract: This powerful anti-inflammatory has been added to help increase the brightness and radiance of the eye area.
o Butcher's Broom Extract: New to the formula, the extract from the root of this plant helps to improve the appearance of firmness around the eyes.
Squeeze serum onto fingertips and pat gently around the eye area, staring at the inner corner of the eye and move outwards, emphasizing the outer corners. Use Day & Night before your moisturizer.
To open capsules: Gently twist tab around twice and squeeze onto fingertips.
Note: Keep stored in a closed container in a cool, dry place.
WARNING: FOR EXTERNAL USE ONLY. DO NOT INGEST.
KEEP OUT OF REACH OF CHILDREN