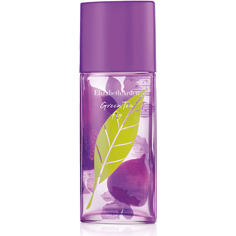 Green Tea Fig Eau de Toilette Spray
Delightful. Sweet. Simple.
Inspired by the lusciously sweet fruit, Elizabeth Arden Green Tea Fig takes you to a rustic countryside full of sparkle, warmth and laughter.
Inspired by the fig tree as a symbol of peace and prosperity, Green Tea Fig is the delightful, sweet and simple accent to every look. Top notes of Fig and Ivy Leaves intermingle with citrus nuances to uplift your spirit. Delightful Green Tea Accord and Kadota Fig place you in a carefree atmosphere; allowing you to leave all of your troubles behind with comforting finishing touches of Musk and Clary Sage.
Top Notes: Italian Bergamont Orpur®, Cedrat, Clementine, Fig Leaves, Ivy Leaves, Vapors Accord
Middle Notes: Green Tea Accord, Kadota Fig, Violet Leaf, Tamarind, Pistachio Tree Resin
Base Notes: Tonka Bean Venezuela Opur®, Musk, Clary Sage
Apply your perfume to the pulse points of your body, such as the inside of the elbow and wrist, back of the knee, side of the neck and between your cleavage. You can also spray a little into the air in front of you before walking into it. This allows the perfume to diffuse over your body.