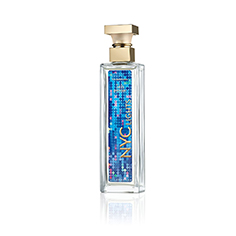 5th avenue NYC Lights Eau de Parfum Spray
Exciting. Luminous. Pulsating.
This resplendent new fragrance was inspired by the pulsating excitement of the glistening town. As the sun sets on the avenue, the dazzling display of glitter stuns and the rush of the moment thrills. A feeling of awe, power and excitement rushes over you while looking down on the majestic Avenue that connects the city. You're on top of the world in the city that's the center of it all.
Sparkling florals fuse with Chilled Cranberries and citrus oils for an opening that is charged with excitement and forays into a luminous heart of Creamy Orris and Amber Xtreme. The end strikes pulsating notes of Patchouli Heart, Sandalwood Oil and Tonka Beans Absolute that bring the fragrant experience to a dramatic close. For the woman who is invigorated by the NYC lights.
Top Notes: Tangerine Oil, Lime Oil, Chilled Cranberries
Middle Notes: Osmanthus Absolute, Creamy Orris, Amber Xtreme
Base Notes: Patchouli Heart, Sandalwood Oil, Tonka Beans Absolute
Apply your perfume to the pulse points of your body, such as the inside of the elbow and wrist, back of the knee, side of the neck and between your cleavage. You can also spray a little into the air in front of you before walking into it. This allows the perfume to diffuse over your body.