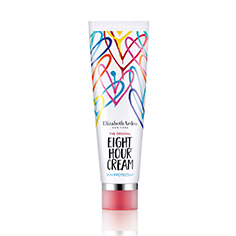 Love Heals x Eight Hour® Limited Edition Skin Protectant
Our legendary all-in-one beauty balm just got a major dose of love. Moisturize and protect any time, any way you choose, now in a limited edition in collaboration with muralist artist J. Goldcrown. It works wonders to shape brows, add shine to lips and cheeks, and smooth cuticles and nails. With countless uses, the sky is the limit for this cult-favorite, award-winning balm.
Celebrated by makeup artists and beauty influencers around the globe, Eight Hour® Cream's wonderful versatility and proven results have elevated it to "cult status" in the beauty industry.
There are an infinite number of ways to use this classic, all-in-1 beauty balm, but here are 8 fabulous ones that have made it a must-have for 88 years:
AT FACE VALUE: Simply rub a dime-sized amount in the palms of hands to warm through, then pat onto the face to seal in moisture.
COMES IN HANDY: Deep condition by working the formula into palms and over the fingers, then wrapping each hand for 10 minutes in a warm towel.
HEEL-TO-TOE HEALING: Relieve weary feet by massaging the cream generously onto soles, pads and heels, then topping with cotton socks for deeper moisturization to heal dry skin.
A FLASH OF BRILLIANCE: Create instant radiance wherever skin normally catches the light, including legs, shoulders, collarbone, cheeks and bow of the lips.
LAVISH THE LIPS: With its effective moisturizing ingredients, this do-it-all wonder perfectly re-hydrates chapped lips.
THE MANE BENEFITS: In addition to its properties as a "skin savior," the cream's petrolatum and natural lanolin help smooth strands and moisturize dry ends.
FROST SMITTEN: It can be smoothed onto skin as protection from windburn, particularly when adventuring outdoors.
KEEPING IT HIGH-BROW: Run the tiniest amount through eyebrows to groom hairs, helping neaten and define the arch.
Simply smooth directly on with fingertips whenever and wherever needed. Avoid contact with eyes.
Created in 1930 by Elizabeth Arden to soothe skin, Eight Hour® Cream Skin Protectant became an instant and overwhelming success. What made it so effective is a combination of petrolatum, a skin-soothing beta-hydroxy in one of its first cosmetic uses, and vitamin E. The apricot coloured balm was so beneficial to her clients, Miss Arden used it to soothe her famous thoroughbred horses' legs. Even its name came about thanks to a remarkable performance - a loyal client used it to treat her child's skinned knee and eight hours later the skin was all better.