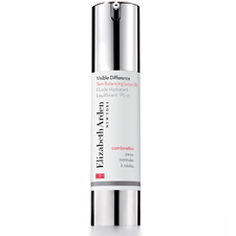 Visible Difference Skin Balancing Lotion SPF 15
Everyone's skin has its own ideal moisture level. Help maintain yours all day with this oil-free skin balancing lotion for combination skin. SPF 15 helps protect your skin from sun damage. Clinically and dermatologist tested. Non-comedogenic. SPF 15
Creating a Visible Difference in your skin means giving it the right amount of hydration and protection all day. This gentle, oil-free lotion helps protect skin from UVA/UVB rays while providing the right amount of hydration all day long. Our special Alpha/Beta Hydroxy Compound also works to refine, and retexturize skin. Non-acnegenic and dermatologist tested.
BEST FOR: COMBINATION SKIN
• Alpha/Beta Hydroxy Compound: Refines, clarifies and retexturizes your skin.
• Retinyl Linoleate: An exclusive retinol derivative that gently and effectively retexturizes skin, improves skin tone and skin clarity, and helps repair the appearance of sun damage. Skin is left firmer and smoother looking.
• Sodium Hyaluronate: Found naturally in the epidermis, this ingredient lubricates and attracts moisture to the skin.
• Vitamin C Derivative: This stabilized form of Vitamin C provides antioxidant protection and helps brighten the appearance of your skin.
• Tocopherol Acetate: This Vitamin E derivative has antioxidant properties to provide free radical protection and help condition skin.
• Glycerin: Provides optimum hydration to replenish and revitalize skin's appearance.
• Oxybenzone and Octinoxate: Provides broad spectrum sun protection.
To use:After cleansing and toning, smooth gently and thoroughly onto your face and throat.
As always, you'll get best results if this is part of a consistent, daily Visible Difference essential regimen:
1)Cleanse 2)Tone 3)Treat 4)Moisturise
Your daily skincare regimen can make a Visible Difference.
Skin types are as individual as personalities and can change with the seasons, diet, and stress. 100 years of Elizabeth Arden spa experience has taught us that nothing is more beautiful
than beautiful skin. Whether your skin is dry, oily, or at times both, the new Visible Difference line of skincare essentials
gives your skin the hydration it needs to appear healthy and radiant.
Specifically designed and customized for each unique skin type – combination, oily and dry – Visible Difference is a four part daily treatment process that cleanses, tones, treats and moisturises. See the difference a skin-specific, spa-inspired daily regimen can make in your skin today and everyday.
VDFN10036