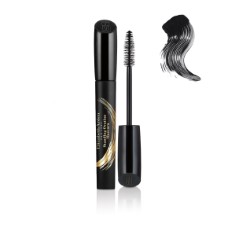 The innovative, supersized brush and smooth, fiber infused formula work together to amplify, build and curl lashes for a fanned out, ムfalse lashメ effect. The smooth formula softens and nourishes lashes, is smudge- and flake-free and clinically proven to increase lash volume by 128%.*
Key Ingredients:
Carnauba Fibers: Attach to lashes to create extra volume and length.
Marula Nut Oil: Leaves lashes lustrous, hydrated and soft.
Panthenol & Antioxidants: Help nourish and protect lashes.
*Based on a US clinical study of 20 women ages 18-45 after two coats of application.
Using the tip of the wand coat the inside tops of lashes from the base to the ends and letting one side dry and moving to the other eye. Starting with the original eye take the wand and start from the base of lashes rolling the brush towards the tips.