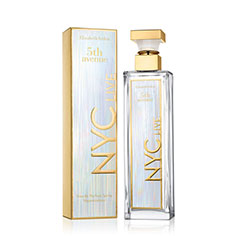 5th avenue NYC Live Eau de Parfum Spray
Alluring. Captivating. Animated.
5th avenue NYC LIVE brings New York City to life. Captivating, brimming with sophistication and excitement, it inspires the woman who experiences it.
5th avenue NYC Live opens with vibrant acai berry that blends with sparkling pink pepper and is energized by colorful mandarin for a lively, fragrant burst. The surprise of enchanting marigold, sundrenched neroli and aromatic jasmine come together in its heart for a beautifully balanced bouquet. Ending on a rich note, musks and woods meet wonderful white patchouli for a fabulous finale. Experience it live.
Top Notes: Vibrant Acai Berry, Sparkling Pink Pepper, Colorful Mandarin
Middle Notes: Enchanting Marigold, Sundrenched Neroli, Aromatic Jasmine
Base Notes: Musks, Woods, Wonderful White Patchouli
Apply your perfume to the pulse points of your body, such as the inside of the elbow and wrist, back of the knee, side of the neck and between your cleavage. You can also spray a little into the air in front of you before walking into it. This allows the perfume to diffuse over your body.