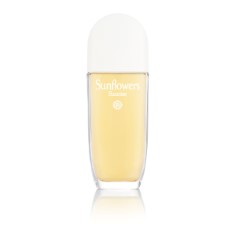 NEW

- Sunflowers Sunrise Eau de Toilette Spray
Vibrant floral
A luminous fragrance, Sunrise captures the moment when yellow flowers release their scent into the light-filled air.
A luminous fragrance that radiates warmth, Sunrise captures the precious moment when yellow flower petals release their scent into the crisp, light-filled air. The bloom of sweet, sugared honeysuckle mingles with notes of ripe citrus before entwining with sundrenched daffodil, resulting in a vibrant floral bouquet that conjures the joy of beautiful beginnings and pleasure in the day ahead.
Top Notes: Yellow Mandarin Italy, Sparkling Bergamot Italy, Juicy Canary Melon
Middle Notes: Sugared Honeysuckle, Dew Covered Daisies, Mimosa Flower
Base Notes: Sundrenched Daffodil, Narcissus Absolute France, Genet Flower Absolute Italy, Benzoin Resinoid Laos
Spritz on skin as desired.